Read my step by step guide on how we exchanged our UK driving licence for Spanish. Including a list of driving medical test centres in Valencia.
---
I'm sure you can relate if you live in Spain that dealing with any documents of legalities is never straight forward. Unfortunately, most of these things can take a while, including exchanging a UK driving licence for a Spanish one. In an ideal world, it'd be a case of filling in a form online and sending your old one back. But of course, this is Spain, and things are not as easy when it comes to dealing with legalities and paperwork.
As of January 1, 2021, the general regulations will apply and the permits issued by the British authorities will only enable you to drive in Spain for six months, from the entry of the holder in Spain or from the date of obtaining residence legal, not being valid to circulate in our country from that moment.
Since Brexit began, there's a lot of confusion on what will happen to British residents in Spain when the UK leaves the EU. However, over the last few months, one thing has become clear. British residents that hold a UK licence MUST apply to change it to a Spanish one.
Which Licence Should You Apply For?
There are two options on how you can exchange your British licence for a Spanish licence. You can either do it yourself or you can hire a gestor to do it for you. This time around we decided to hire the help of a gestoria. After all, with all the restrictions on many public services because of the pandemic, we thought it would be easier to get a third party to handle the process.
Canje
This is simply exchanging your UK licence for a new one. You will retain the validity of your UK licence provided that your licence is valid and not due to expire soon (i.e: 3 months). The years left is carried over to your Spanish licence. For example, I had 6 years left on my licence, and I received my Spanish licence with still 6 years left on it. This type of exchange doesn't require a medical certificate. The categories in your licence (reversed side) must also conform to Spanish/EU regulations and validity dates.
Renovacion
The second option is 'renovacion', this is when your UK licence is about to expire and you will have to renew it completely. For example, my husband had 2 years left on his licence, he was required to have a medical to exchange his licence.
Paperwork Required For Changing Your UK Driving Licence To A Spanish Licence
Proof of identity (passport)
Proof of residency and a photocopy
Padron (proof of your address from the town hall) renewed within
the last three months.
Driving licence card. If you have the counterpart take that too. (Ours didn't have a counterpart and we had no issues.)
A recent passport size photo 32mm x 26mm
A fee of €23.50
Exchanging A UK Driving Licence To Spanish
DIY Option
Make an appointment with the DGT and do all the paperwork yourself. This option is cheaper if you have a good understanding of the Spanish language. However, bear in mind that appointments for the DGT have been difficult to get hold of since the rollout of Brexit. Not to mention the pandemic, which has made things even worse and obtaining an appointment have been nearly impossible!
If you decide to go the DIY route, then you will need to fill in an application to exchange form. This form is then submitted by requesting an appointment through the DGT website. If you have a firma digital (digital signature) or a [email protected] app you can do it through there too or by calling the FREE number 060.
Three days after you submitted your application, go to DGT to request an appointment. The purpose of This appointment is to complete the final exchange of your licence. You will need to hand over your UK driving licence and you will be issued a temporary driving permit.
Hire A Gestor
Hire a gestor to do everything for you. This is what we did. Of course, this method costs a little bit more, but in my experience it's hassle-free and it's better than waiting months for an appointment or going back and forth to the DGT.
The paperwork stays the same as if you would go the DIY route. But of course, instead of only paying €23.50, you will need to pay the gestor to handle the application for you. We used the services of Gestoria Ibanez, an established agency in Valencia that specialises in the processing of vehicle documentation and registrations.
I didn't need an appointment, I popped in one day, with a completed form, and necessary documents. They checked everything was correct and sent in my application. Juan, who dealt with me was very friendly and explained to me the process and timeline.
I was told that they will need to obtain a certificate of entitlement from the DVLA and once that's approved then they will be in touch for further instructions. I wasn't required to make any payments at that time, however, I opted to pay there and then. The fee is €60 per application.
After a week I heard back from the gestoria. Our licences have been confirmed by the DVLA. My licence which had 6 years left on it will be brought over to my new licence. However, my husband who had 2 years left will need a medical certificate. Once my husband obtains his medical then we need to return to the office so that they can finalize our application.
What does a Spanish driving medical test involve?
A medical certificate must be issued by an officially recognised test centre. You can download a list of recognised test centres in Valencia here. Though it sounds daunting, a medical is pretty straight forward. First of all, you will need to get in touch with your preferred medical centre and make an appointment. My husband contacted our local test centre and got an appointment within a couple of days.
You will need to take your UK drivers licence, residency card and the fee which costs around €30-40 depending on the test centre. The test itself takes around 10-15 minutes. This includes:
Eye test
Hearing test
Dexterity test
Blood pressure
General health Q&A
Temporary Driving Permit
Once my husband obtained his medical certificate, we returned to Gestoria Ibanez. Juan took the certificate and our original UK driving cards. Everything was paid for and all we have to do is wait.
The process can take from 2 weeks to 3 months maximum. We were given a temporary permit (autorización temporal para conducir) until our new ones arrive. This came within a week by email, a document that we have to print and keep just in case we get stopped by the police.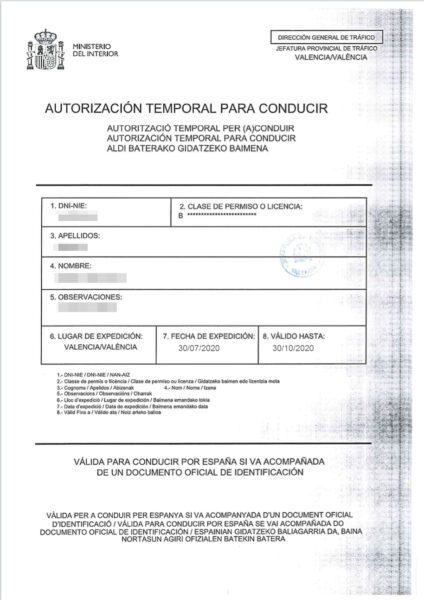 Yey! My new licence!
Just over a month since our initial application, our new Spanish licences came. I was pleased with how easy that was! No making appointments, waiting times or going back and forth to the DGT. The gestoria handled our application without a hitch and they kept me up to date on what's going on.
Do you like my posts? Subscribe now!
Sign up here to get the latest posts, recipes, DIY and other cool things!