This retro sprinkle tray bake was the trend back in school and one of the highlights of my school days in the UK (yes, really!). I have forgotten how much I loved this cake until my 11-year-old and I started talking about our favourite school desserts.
You see, school dinners are different in Spain, puddings are only served during celebrations, like the Fallas or Christmas. Most of the time, they either have a choice of yoghurt or fruit. I know it's healthy and all that, but I wanted to introduce him to what reminded me of my childhood. So last weekend I decided to make it.
Old School Cake Recipe
This school cake traybake makes about 20 slices, so we were quite greedy in making such a big batch. But what the hell! You can always halve the recipe if you want to reduce the quantity. The cake freezes well, so any leftovers can be saved for next time. Or maybe not in our household!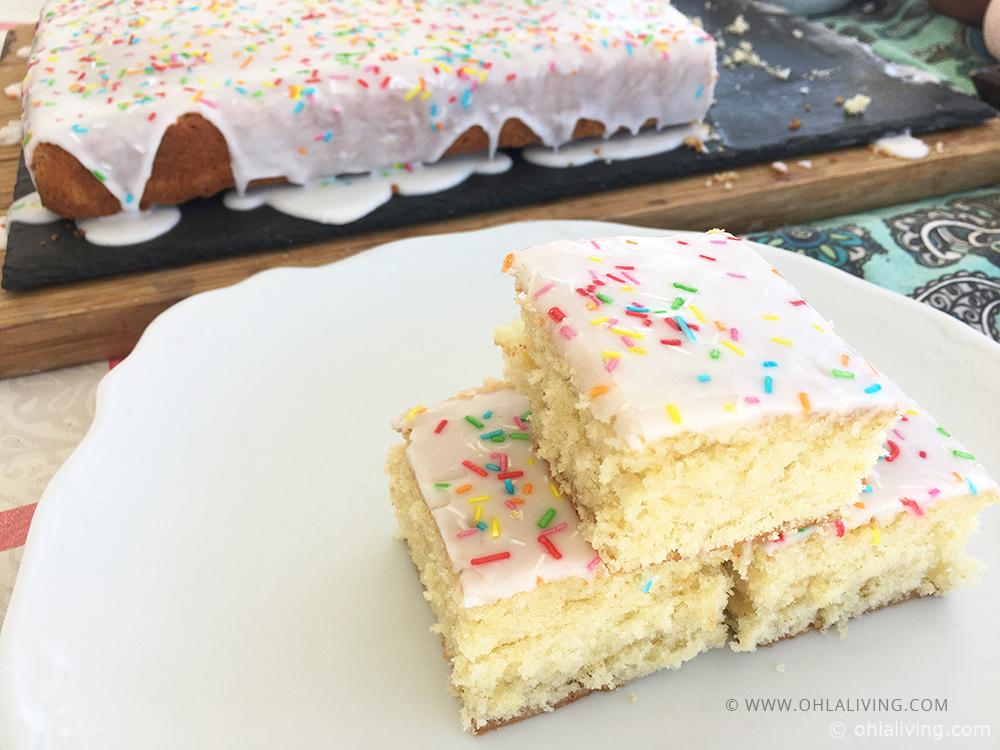 If you're a lover of old school puddings, then I'd recommend trying this. It's super easy and it will take you back to the days of slouch socks, NKOTB and bad hairstyles. Don't you just love nostalgia?!
How To Make The Spoke Cake
This is a basic sponge cake mixture and easy to make. The secret is to ensure that the butter is at room temperature. If I'm in a hurry I cube the butter and leave it in the mixing bowl for at least half an hour, this will make creaming a lot easier.
Butter Or Margarine?
If you do not have butter available then using margarine is OK too. However, butter has a higher fat content which gives cakes more texture. Use margarine that's suitable for baking to achieve a similar effect.
Caster Sugar or Granulated Sugar
Caster sugar is a lot finer than granulated sugar that's why it's ideal for making light and spongy cakes. However, there's not much of a difference if you use granulated instead of caster. I tend to use caster sugar for better effect or if I'm making something special, otherwise, if I only have granulated in the cupboard, I also use that instead.
Self-raising or Plain Flour
Self-raising flour is the best flour to use for this recipe. However, if you only have plain flour you can add 4tsp of baking powder in 300g of plain flour and it will achieve the same results.
Five eggs?!?
That's what my husband said when he read my recipe. Yes, you will need 5 large eggs. Add the eggs alternately as you cream the butter and sugar.
If you only have medium eggs then you can always use these, then add a little bit more milk if the consistency is thick. Avoid creaming the butter and sugar for too long because this will make the mixture curdle or split. Set your electric mixer to medium speed to avoid this.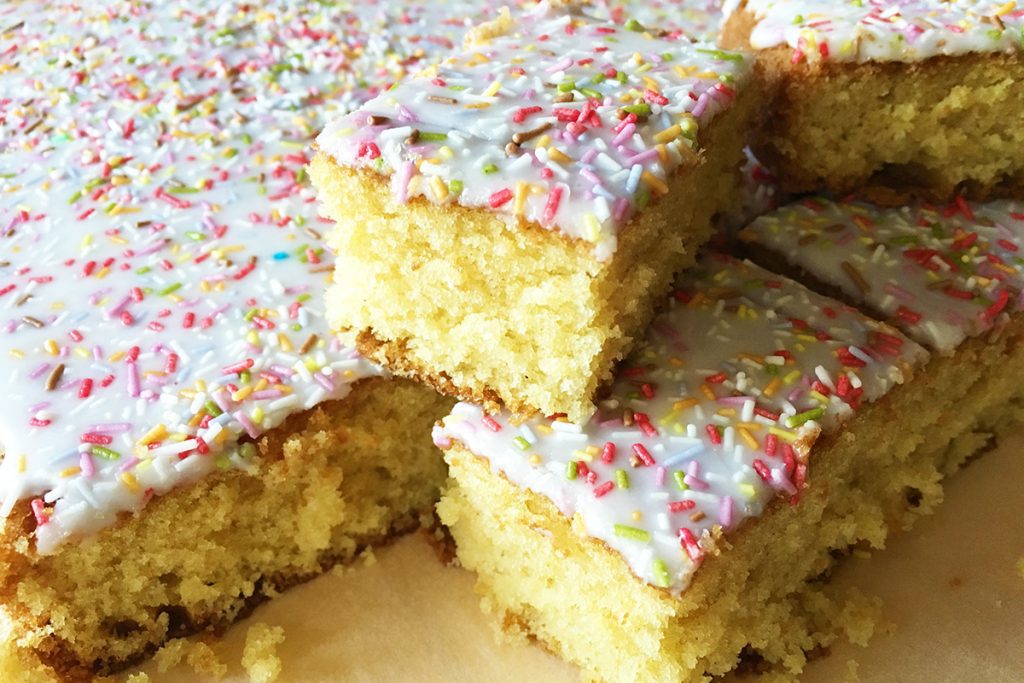 Old Skool Retro Sprinkle Tray Bake
Be whisked back to your school dining hall with this old school cake with sprinkles! Ideal for special occasions such as birthdays, or just to enjoy amongst family and friends.
Ingredients
Sponge Cake
300 g butter
300 g caster sugar
300 g self raising flour
5 large eggs
95 ml milk
1 tsp vanilla essence
Icing
400 g icing sugar
8 tbsp milk
50 g sprinkles
Instructions
Preheat the oven to 160°C / 325 degrees F or Gas Mark 3.
Line a 30cm x 23 cm x 3.5cm square tin with greaseproof paper. Set aside.
For a soft and spongy cake make sure that you have left the butter in room temperature.
Cream the butter and sugar together until smooth. Add the eggs one by one and mix well.
Once all the eggs have been added, add in the flour using 2 tablespoons at a time to make sure the mixture is smooth.
Add in the milk and vanilla essence and mix well.
Pour the sponge cake mixture into the tray and bake for around 25-30 minutes.
Keep an eye on the cake until it turns golden brown. You can see if the cake is done by sticking a toothpick or a knife into the middle of the cake. If it comes out clean then your sponge cake is done. Leave the cake to cool in the tin for about 15 minutes before turning it out onto a wire rack.
Once the cake has fully cooled down, make the icing by adding the milk into the icing sugar.
Add half of the milk first to test the consistency. I like my icing to be quite thick, once the icing is done pour it into the middle of the cake and spread carefully with a spatula. Let the icing run along the sides of the cake for effect. Then add the sprinkles!
Notes
If the icing is too thick for you, you can add more milk to suit your taste.
Recommended Products
This post contains affiliate links at no cost to you. For more information please read my terms and conditions.
Troubleshooting:
My cake is too eggy
To avoid the cake smelling or tasting too eggy it's important to add vanilla essence as suggested in the recipe. An eggy cake can also mean that the cake was cooked for too long,
My cake is taking far too long to bake
Using the correct size tin for this recipe is important to ensure that your cake cooks at the suggested time. If you don't have the correct tin size to adjust your cooking time, it might need a few minutes more in the oven.
My cake did not cook in the middle!
Again using the correct tray size is important. If you have a smaller tin, the cake will take longer to cook. If this is the case then adjust your cooking time depending on the size of your cake tin.
How can I achieve a levelled cake?
Before putting your tray in the oven, tap your cake a few times to level out the mixture. This is a basic trick that I use to achieve a level cake ideal for icing.
Do you like this recipe?
If you like this recipe, then you might also like my other retro cake recipes. Check them out below:
Do you like my posts? Subscribe now!
Sign up here to get the latest posts, recipes, DIY and other cool things!