A traditional school jam and coconut tray bake that I'm sure you will love. Made with super soft sponge with a jam and coconut topping, I promise it'll be hit with everyone.
---
The twelfth day of our lock down and I am cooking and baking more than usual. Yesterday while cleaning and sorting my cupboards (at least this quarantine is proving to be somewhat productive) I found a pack of desiccated coconut. And since the popularity of my Old Skool Retro Sprinkle Tray Bake, I thought I'd also re-create the popular jam and coconut bake. Remember these from school? Usually served with custard, it's a very comforting dessert that always takes me back!
Being at home 24/7 is not too bad after all. I'm finding stuff I didn't know I had and thinking of recipes from back in the day that I would like to try. This past two weeks I've baked 3 types of cakes! I'll publish them on the blog as soon as I can. But for now, I wanted to share this classic.
The sponge is made using the same method from my other traybake, but with a few minor modifications. I used raspberry jam, but you can also use strawberry depending on your preference or whatever you have available in the cupboard. Some people prefer to use jams without the seeds or bits, but I prefer my topping with extra texture.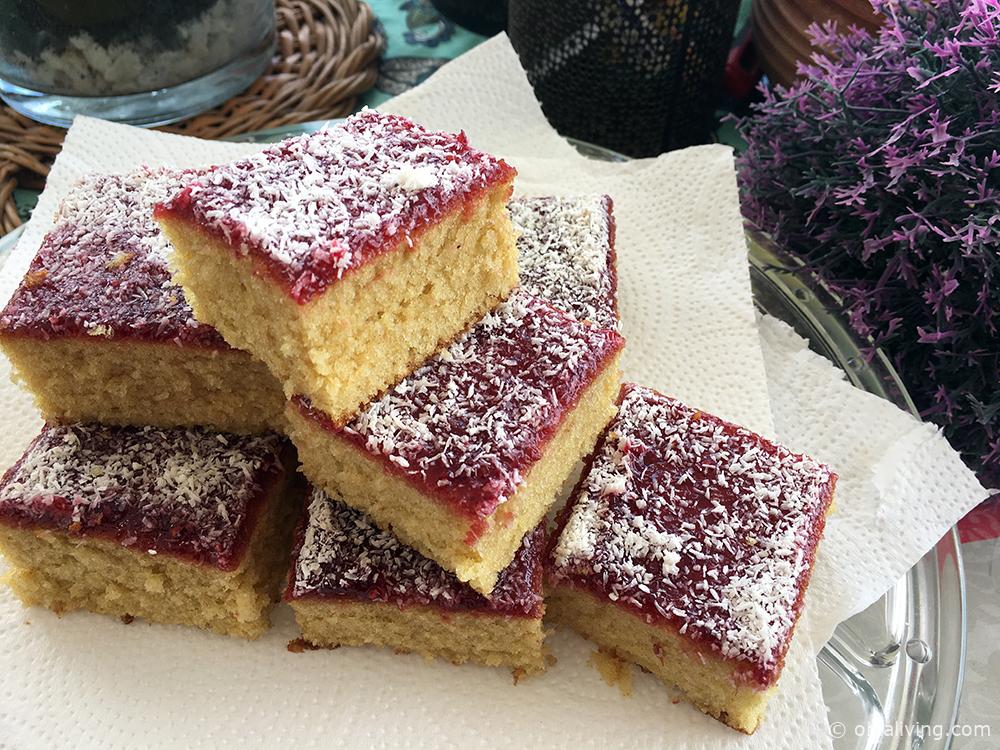 Traditional School Jam and Coconut Tray Bake
An old recipe back that reminds us of school days. Try this easy to make traditional jam and coconut tray bake. Serve with warm custard!
Ingredients
Sponge Cake
300g butter
300g caster sugar
300g self raising flour
5 large eggs
8 tbsp milk
1tsp coconut essence or vanilla essence
Cake Topping
25g desiccated coconut
good quality raspberry jam
Instructions
Preheat the oven to 160°C (140 fan)/ 325 degrees F or Gas Mark 3.
Line a 30cm x 23 cm x 3.5cm square tin with greaseproof paper.
Cream the butter and sugar on medium speed together until smooth. Making sure to add the sugar 2 tbsp at a time. Adding the eggs one by one.
Once all the eggs have been added, add in the flour using 2 tablespoons at a time to make sure the mixture is smooth.
When all the flour is added, add the vanilla or coconut essence and mix well.
Add the milk 2 tablespoons at a time, mixing in between.
Pour the sponge cake mixture into the tray and bake for around 25-30 minutes.
Keep an eye on the cake until it turns golden brown. You can see if the cake is done by sticking a toothpick or a knife into the middle of the cake. If it comes out clean then your sponge cake is done.
Leave the cake to cool in the tin for about 15 minutes before turning it out onto a wire rack.
Once the cake has fully cooled down, make the topping by spreading the raspberry jam evenly across the top of the cake.
Sprinkle the rest of the coconut across the top of the cake.
Notes
If you want a lighter sponge, add a little bit more milk in the mixture.
Recommended Products
As an Amazon Associate and member of other affiliate programs, I earn from qualifying purchases.
Nutrition Information:
Amount Per Serving:
Do you like this recipe?
If you like this recipe, then you might also like my other retro cake recipes. Check them out below:
Do you like my posts? Subscribe now!
Sign up here to get the latest posts, recipes, DIY and other cool things!