Traditional Valencian buñuelos recipe or pumpkin fitters are popular during fiestas and Fallas. Crispy on the outside and soft and spongy on the inside.
---
Buñuelos are pumpkin fritters widely consumed in the Valencian region especially during the Fallas festival. They are small doughnut type snack, light and fluffy with a tasty pumpkin flavour. If you've visited Valencia during the Fallas it's more than likely that you have encountered them in street stalls accompanied by a hot cup of thick chocolate!
This traditional recipe has been passed on from one generation since the 19th century, and the ingredients and method haven't changed. With only 5 ingredients, they're really easy to make. So this weekend we decided to give it a try!
What's In A Valencian Buñuelo?
To make traditional Valencian buñuelos firstly, you will need a decent size roasted pumpkin. Roasted pumpkin? I hear you say! Here in Valencia, roasted pumpkins or calabaza asado are available to buy in supermarkets and greengrocers. They seem popular and I often see abuelas carrying them on the street. I was always curious, what do they use them for?!
Well as it happens, Valencians use roasted pumpkins to make buñuelos. This the most popular flavour, but they also use figs, though I haven't tried that one yet. You can use any type of pumpkin and they have a certain type usually labelled 'calabaza para asar' (pumpkin for roasting) in the supermarket.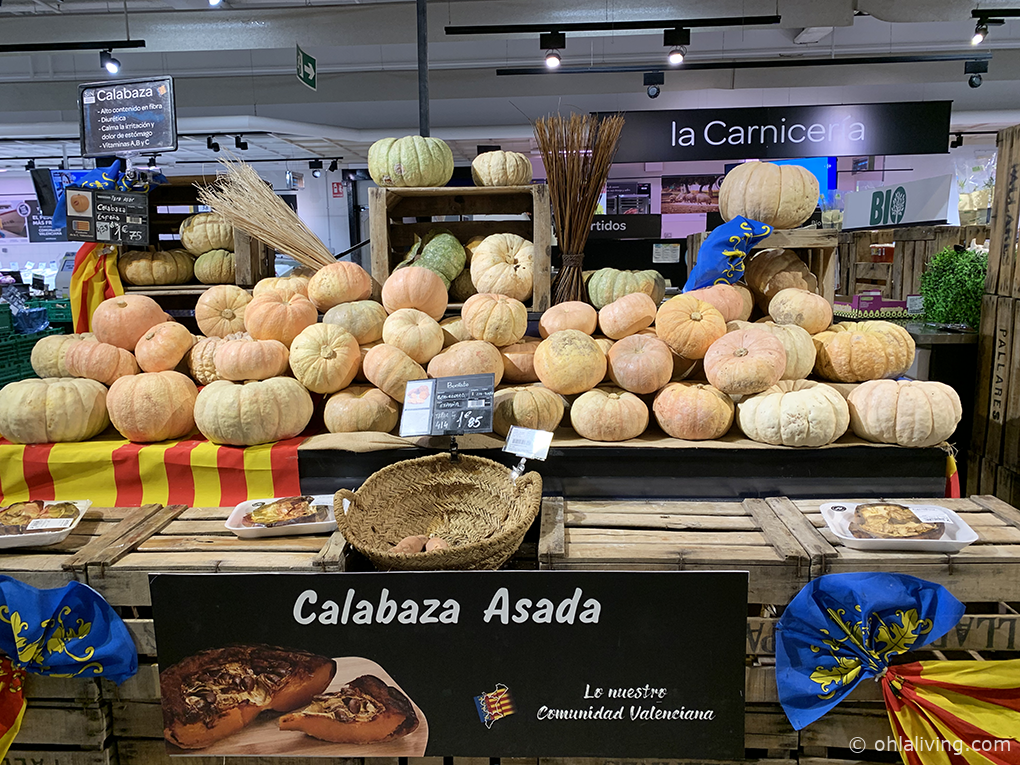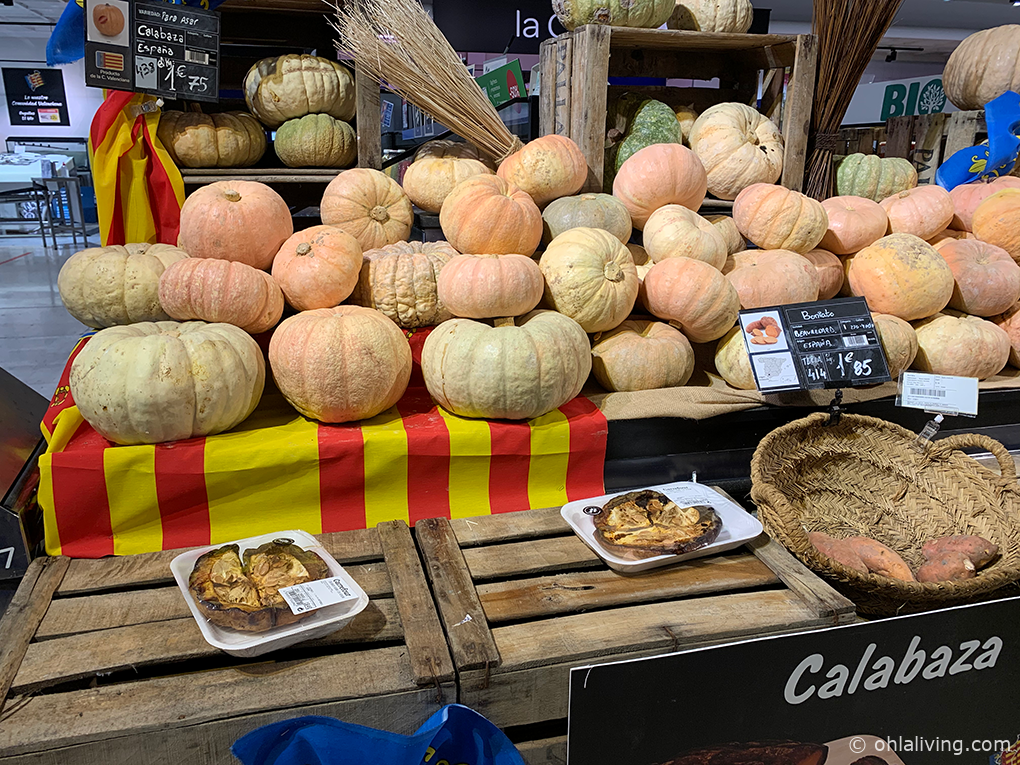 If you want to make buñuelos, I would recommend roasting your pumpkin in advance. This is done by cutting the pumpkin lengthwise. Pop it in the oven at about 150c for 1½ hours or until the pumpkin is really soft. If you don't want to roast a whole pumpkin you can also boil them, or use ready-made and sliced pumpkins from the shop.
How To Make Traditional Valencian Buñuelos
Prepare the pumpkin
After roasting or boiling the pumpkin, remove the seeds. Scoop the fleshy part into a bowl and mash it to a smooth (pureed) consistency using a hand blender or potato masher. Set aside while you prepare your dough.
Make the buñuelo dough
Add half of the warm water in a large bowl. Crumble the fresh yeast into the water and stir with a whisk until all the yeast has dissolved. Get half of the flour and add it to the water and yeast mixture, stir until you have a smooth batter. Add in the rest of the water, and flour, again mixing well. Lastly, add the mashed pumpkin and fully incorporate with the batter. Cover with cling film and set aside to rise in a warm room for 1½ to 2 hours or until the dough has risen.
Frying the buñuelo
Heat the oil in a deep pan or wok. Test the oil if it's ready by inserting a wooden stick or chopstick into the pan. If you can see bubbles forming around the stick then the oil is ready to use.
Set up your workspace by placing the bowl with the dough mixture next to a bowl of cold water. You will need to dip your hands in the cold water before handling the dough. This allows you to handle the dough without it sticking all over your hand.
A traditional buñuelo is round with a small hole in the middle. You can do this by taking a ball of dough and putting your index finger through the centre before allowing the batter to drop into the hot oil. Don't worry if you cannot do this the first time. I'm still not skilled at doing this, and it's OK if you can only form balls instead of the typically shaped buñuelos. You can also cheat, and buy a spoon called buñolera, it helps you create the hole in the middle without the skill or effort.
Fry the buñuelos for about 1-2 minutes, or until it's golden brown. Set aside on a large tray lined with paper towels. Once you've fried all the buñuelos sprinkle them with granulated sugar and serve with thick hot chocolate!
Traditional Valencian Buñuelos
Total Time:
1 hour
40 minutes
Make these delicious pumpking fritters covered in sugar. A popular snack here in Valencia especially during the Fallas.
Ingredients
700g roasted pumpkin 
700g strong flour
50g fresh yeast
500ml warm water
500ml oil for frying
Instructions
Cut the pumpkin in half and place in an oven at 150c for 1 ½ to 2 hours, or until the pumpkin is soft.
Set the pumpkin aside to fully cool down.
Once the pumpkin has cooled down, take out the flesh and transfer to a deep bowl. Mash with a potato masher or use a hand blender until smooth.
Pour half (250ml) of warm water in a large bowl.
Crumble 50g of fresh yeast into the water and stir with a whisk until fully dissolved.
Add half of the flour into the water and yeast mixture. Stir until all the liquid is mixed with the flour.
Pour in the rest of the water and flour. Stir well.
Add in the pureed pumpkin into the mixture. Stir again. The mixture should resemble a thick batter, not a dough.
Cover the mixture with cling film and set aside to rise or double in size in a warm place. This should take around an hour to an hour and a half.
Heat up the oil in a deep pan or wok. You can see if the oil is ready to be used by putting a wooden stick in the middle, and if there are bubbles then it's hot enough to use.
Arrange your workspace so that you have the bowl of buñuelo mixture and a bowl of cold water next to you. The cold water is used to wet your hands so that the mixture doesn't stick while you're handling it. This stage can be a bit messy if you've not done this before.
Dip your hand into the cold water and get a handful of mixture. Shape it in a ball and carefully drop it into the hot oil.
The buñuelos takes a couple of minutes to cook.
When the buñuelos are golden brown, take them out and set aside on a plate or tray lined with paper towels.
When all done sprinkle with granulated sugar and serve hot with thick hot chocolate. Enjoy!
Recommended Products
As an Amazon Associate and member of other affiliate programs, I earn from qualifying purchases.
Nutrition Information:
Yield:

30
Serving Size:

1
Amount Per Serving:
Calories:

242
Total Fat:

17g
Saturated Fat:

1g
Trans Fat:

0g
Unsaturated Fat:

15g
Cholesterol:

0mg
Sodium:

32mg
Carbohydrates:

20g
Fiber:

1g
Sugar:

1g
Protein:

3g
Do you like my posts? Subscribe now!
Sign up here to get the latest posts, recipes, DIY and other cool things!