We are not short of sunshine here in Valencia, so even though my husband and I spend our time working during the week, we are certain that on weekends we can rely on the continuous sunshine to make family time with the kids.  It really depends what you're into, we're a kind of family who like to spend time outdoors exploring and creating our own adventure, so the less money we spend the better, after all quality time with the kids is a lot more important than spending ££'s just 'for something to do' during the summer.
Back in the UK I use to dread the summer holidays, with the weather sucking most of the time, parents like myself sometimes can only do so much to entertain the kids indoors. After a couple of weeks the ideas start to run out, and the easiest option will be to take them to places where you have to pay to have the privilege of being indoors such as the cinemas, specialist resorts, or playdens.  The kids enjoyed them, but left us parents broke when you take in to consideration entrance fees, food and other fun things that kids like to do!
One of the things I love about living in Valencia is endless options of activities during the summer holidays, even if you do not plan to go anywhere, towns and villages during the summer hold fiestas and events that the family can enjoy.  Of course there are also a lot of places you can visit in Valencia city, but I prefer to explore the surrounding towns and find out what's going on and what we can discover! So, here are some of the things our family do during summer in Valencia.
Head to the mountains
If you love trekking or mountain biking, then Valencia is the right place for you. There are a lot of mountainous areas accessible by cars and bikes, our favourite spot is Sot-de-Chera which is situated about North West from Valencia city, a good hour drive. The winding roads and views are breathtaking, there are also nature spots where families can take a picnic and enjoy the peace and tranquillity.
Head to the beach
Valencians are spoilt when it comes to beaches and even boast of having the best beaches in Europe. Malvarossa and El Saler are the main ones just 15 minutes drive from the city. But if you wander off a little bit more in the outskirts or if you prefer peace and quiet, then you will find more beaches with beautiful and long parades, parks ideal for those early and late summer activities.  Because many of these beaches are only known to Valencians they are virtually unspoilt by tourists it's a great place to go during weekends.
During the summer months, you will find most of the beaches in Valencia becomes pretty busy, but nothing compared to Benidorm or Alicante. A lot of families, mostly Spaniards come to spend the summer, the pace is still relaxed and very family friendly.
Picnic in The Woods
One thing we noticed when we first visited Valencia was a number of parks situated almost everywhere you go, whether it's in the city or in the country there are facilities and things to do for the kids. During the spring and summer months, Valencians love to spend time with their family in natural parks similar to this one situated just ten minutes walk from our home.
Hidden in a protected wooden area are a small chiringuito with picnic areas and paelleros. These parks and natural areas are full of families especially during the weekends.  In the summer it's mainly used during the evenings, where families can spend time over a table full of food and an endless supply of beer. Such a relaxing and social way to spend the holidays.
Swim in the natural pools
If you thought Valencia is just all about the beaches, then you haven't ventured far enough. Hidden in the mountains and small towns you will a lot of natural springs and lakes, ideal places to relax and cool off during the hot summer months.
Last year we took a short trek to our favourite spot with friends to Sot de Chera, where you will find amazing hidden waterfalls and pools.  Usually, we take a picnic and games for the kids and spend the whole afternoon and early evening relaxing and taking in the beauty of the Valencian mountains.
Attend a paella competition
Valencians take their paella making very seriously, and sure enough every year during the months of July to August towns and villages in Valencia hold their own paella concurso. An amazing and tradition that have been going for decades, where Valencians spill out to the streets and cook paella in an open fire. The more friends the better, every person who attends usually pay €1.00 for their share of the paella.
This year, our friends cooked for almost 50 people, it was a lively and fun party where everyone can enjoy the evenings cool breeze, drinking sangria and experiencing the authentic atmosphere of the Valencian summer.
Attend a bull-run
The street bull runs usually happen during the summer months. Streets are transformed into caged and blockaded runways for the bulls. The fiesta lasts for a week, and the bull runs take place during the early afternoon and late evening.  Last year we took our family to see the bull run for the first time from the safety of our own barrier.  It was amazing to see these beautiful animals run through streets.
Though I'm not really a great fan of this tradition it's a must-see if you are visiting or have the chance to.  It's not quite the same as Pamplona and I was told that the bulls and cows are not hurt in any way.
Camping
There are many amazing places to explore in Valencia, and if you like nature then camping is also a great choice. There are plenty of campsites available depending on your preference.  If you like nature and peace like us, then I would recommend Campo Pedralba, a family ran campsite situated in the town of Pedralba about 20 minutes from the city.
Surrounded by orange groves, Campo Pedralba offer choices of authentic teepees, yurts, cabin and they also have basic camping facilities if you bring your own tent. A great place for the family to relax, play and explore!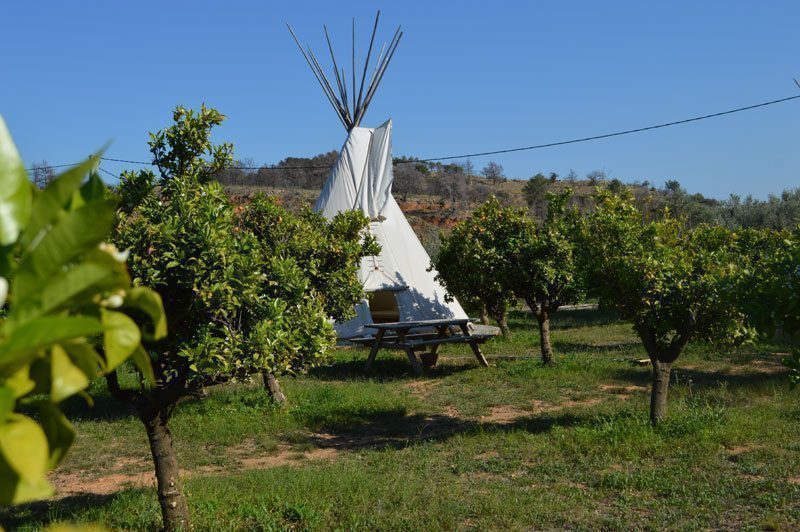 Spending time with friends
Last and by no mean least, spending time with friends and enjoying the fresh evenings is our ideal way to spend the summer. No matter what we doing warm evenings is a good way to spend time, socialise and enjoy a pan of paella until the early hours of the morning.  Summer in Valencia is truly an experience and we feel lucky to be able to experience this with close friends and family year after year.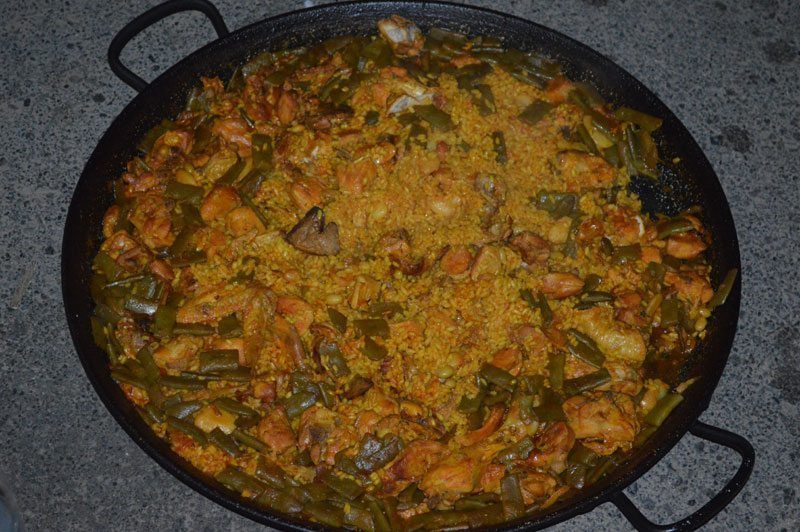 Do you like my posts? Subscribe now!
Sign up here to get the latest posts, recipes, DIY and other cool things!