Living in an urbanisation in Valencia can have many advantages. For example; it's a great place for families, as many have facilities to cater for kids and you will find a community hotspot like a bar so you can socialise with your neighbours. However, not all urbanisation are the same. They differ in size, facilities, and location.
So what is it really like to live in an urbanisation in Valencia? In this post, I want to give you a little insight into our experience and thoughts. Hopefully, helping any of you who are still considering where to live, or curious about what kind of lifestyle you might expect if you choose to live in this type of neighbourhood.
What Is An Urbanisation?
Urbanisation is a residential community development that is run by independently by the residents. They have their own rules and regulations. They can be located near towns or deep in the campo.
Facilities in urbanisations depend on each one. For example, when we first arrived here, we lived in an urbanisation in the campo. This particular urbanisation had no facilities, the urb had homes clustered in an area about 4km from the nearest town. We lived there for 3 years until we decided that it was not really for us. Though the peace and quiet were wonderful, we needed more in regards to socialising and facilities, especially for the kids.
We then found the urbanisation where we are living now, which is only 1km from the nearest town. Nestled amongst the orange groves on top of a hill, but not too deep in the country. This is more our type of place. The urbanisation has no through roads, so it is a lot safer and people who come through are only those who live here.
The urbanisation also has more facilities for families with children, these include:
Community pool
Bar/Restaurant
Football pitch
Tennis/Fronton/Basketball Area
Outdoor Gym
Kids Park
Security Cameras
Road Cleaners/Maintenance
These facilities are exclusive to the residents and their visitors. We found this particularly handy when we have family over the summer period. Our own little private area, and more importantly it's super safe for the kids.
Police also patrols the area at least twice a week and a local gardener/handyman (for a fee) is available for all the residents.
What is it like to live in an Urbanisation in Valencia?
Our urbanisation has 100 homes. Around fifty per cent of homeowners do not live in the area during the winter. Which mean that most of the time our neighbourhood is very quiet. However, it doesn't mean that we are alone. We have close neighbours that also live in the urb all year around.
Our urbanisation has a board that consists of a president and several secretaries who mediate and decide on what goes on in the community. This includes maintenance such as bin collections, cleaning and fiestas/events. Yearly meetings are also held by the board to discuss any problems or improvements that can be made in the urbanisation. The residents (owners) have a say or vote in what happens in the community. Our urbanisation is small and we like it like that. It allows us to get to know all of the residents more personally.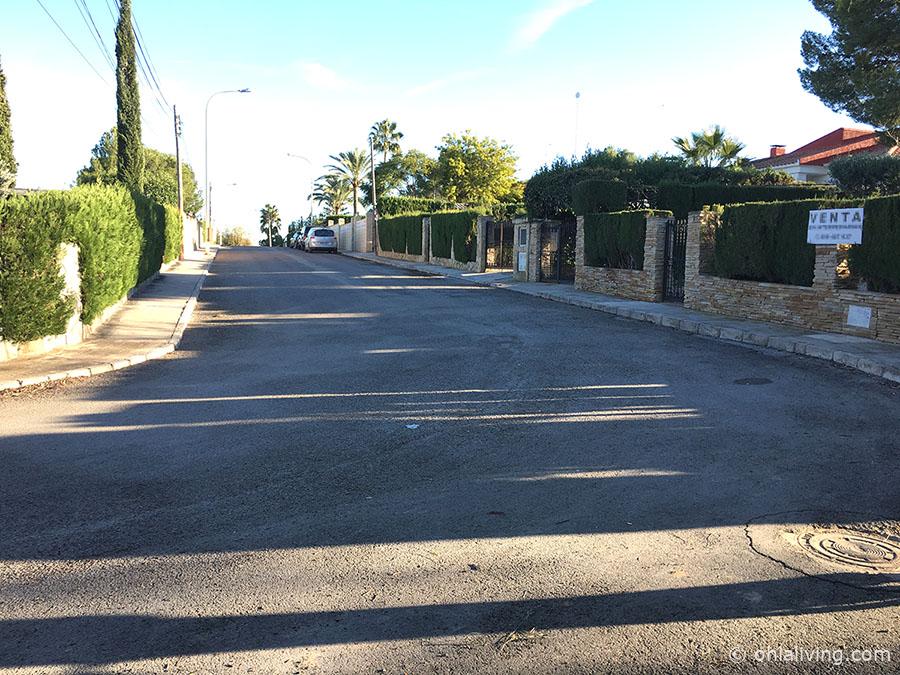 What We Love About Our Urbanisation
We moved in during the summer months about 3 years ago, so we got to meet most of the residents. Being the only British family in the community, we were anxious about what they will think of us. But all those worries disappeared when our neighbour brought us chocolate cakes as soon as we arrived. Since then we have got to know most of the residents, whether it's bypassing or meeting them at the bar.
Living in small urbanisation is cosy. Everyone seems to get along fine. We have a social hub (bar) that is open all year round, a great place to meet up or have lunch with the neighbours. The bar owners are also selling local harvests such as artichokes and oranges from time to time. During fiestas and festivals, they cook something for the residents like paella or a roast pig. We are informed through a WhatsApp group what's going on so we never miss anything.
Community Spirit
During the summer months around August, the community also arrange a 2-week fiesta for the residents. For two weeks there will be things going on for everyone. This is a great chance to get to spend time with our neighbours and take part in events organised by the community.
Events will usually include:
Staring Off With A Bang!
Of course, with any celebration in Valencia, letting out fireworks is a must! So at the start of every season a small display will be held to mark the beginning of summer!
Paella Concurso
Open to all residents who wish to partake. Usually held during the evening in the BBQ area, people can make their own paella and be judged to who made the best one!
BBQs
Whether it's sardines, hotdogs, or ribs, residents can attend a night at the bar complete with BBQ and wine.
Swimming Night
We wanted to attend this one last year but missed it as we were on holiday that weekend. Swimming nights start from 21:00 – whenever!
Camping Night
A chance for the family to camp under the stars.
Football Match
Kids vs Adults, a fun event but still very competitive!
Bingo/Dancing/Dominos
For the older members of the community, though everyone still gets involved.
Fancy Dress Parade
Mostly intended for the little ones, whether theres a theme or dress up just for fun. They parade around the urbanisation with a percussion band.
Bring Your Own Food
Residents are invited to eat at the bar and bring their own food & drinks.
Water Inflatables
The community pool is transformed with large inflatables for the kids to enjoy.
Good internet connection!
We live about 30 minutes from the city. In this part of Valencia, the further you go inland, the trickier it is to find a decent internet connection. Running a business from home, mean that we need a fast connection and we're pretty lucky that a year after we moved, the community decided that the residents will benefit from fibre optic. After using unreliable WiMAX for the last 4 years it's soooo nice to finally have something that doesn't freak out or cut off as soon as it rains!
It's secure
Unlike some urbanisations, we do not have 24 hours gated security. However, a police car patrols the area, especially during the winter. We also have cameras at the entrance connected to the security centre, keeping an eye on any unwanted visitors.
Things We Do Not Like So Much
We are pretty lucky that we've not had any issues or major dislikes about where we are living now. If I REALLY have to nitpick about what we don't like then it would be the following:
The lack of safe paths to get to town
Our urbanisation does not have a walking/cycling path to the nearest town. Even though it's only over half a mile, it would be nice to be able to walk or cycle instead of taking the car. I only say because during the holidays and weekends my husband and I become an on-call taxi service. My son is 11 now, and how quickly he's growing. He is very much involved in our local town and arranges to meet his friends to hang out.
I know he's still young to be walking/cycling on his own, so I will still have to drive him for a few years. But as he gets older, it would be nice if he could make his own way without me worrying. The only road that connects to town is awkward and busy and I am not keen on the idea of him walking or cycling through this route.
Winter time can be quiet
As I mentioned half of the urbanisation residents live in the city most of the year. Many of the residents here have two homes, this can be a flat in the city convenient for them for work. Then home in the country where they can unwind during the holidays and fiestas. During the winter not many of the residents visit.
Final Thoughts
Of course like many things, living in an urbanisation in Valencia can have its pros and cons. I have written a list of 'The Best Areas To Live Outside Valencia City' where you'll find that most of the areas that I have listed are located in an urbanisation. You can also read about my past posts on 'So You're Thinking About Living In Valencia' and 'The Realities Of Being A British Family In Valencia'. This will give you a fair idea of what we have experienced in the past and why we live where we are now.
Whatever you choose, there are a lot of urbanisations in Valencia that offer different facilities. I would recommend doing your research, ask the locals and visit several areas to really have a feel on the location before deciding what kind of urbanisation is right for you. 🙂
Do you like my posts? Subscribe now!
Sign up here to get the latest posts, recipes, DIY and other cool things!