The more I visit Valencia the more I fall in love with the place. So it was no brainer when my husband and I decided to take another weekend break just 30 minutes drive from our home. I tend to visit the city often, but not to sightsee. I guess I forget to appreciate it and that it's been my home for nearly three years. But it's always something we enjoy.
We spent a couple of hours in the afternoon with a friend in Manises. After a few drinks and mini celebration about our free weekend, my husband and I headed off and caught Metro from Rosas heading to our stop in Colón. Our hotel was about 10 minutes walk from the station, but we wanted to do a little shopping and sightseeing in the area before we checked in
An elegant Boutique hotel in old Valencia
Hotel Caro is a 26 bedroomed refurbished 19th-century palace converted to an elegant luxury boutique hotel. It's situated about 5 minutes walk from the cathedral and only a stone's throw away from the 'old town'. After 7 years of careful restoration, the hotel is one of the first historical hotels in Valencia.
An independent, urban and cosmopolitan hotel that intends to be the optimal choice for those travellers who wish to enjoy a memorable experience from a different perspective.
The Caro prides itself as a five-star hotel with its historic architectural heritage mixed with simple designs. Which can be seen in the interior that features old Arabic stonework and gothic arches. These amazing finishes have been elegantly blended in with the decor to create a welcoming, modern, stylish and historic hotel.
The reception is small and welcoming, with pieces of Roman history displayed around the waiting area. Very different, I thought. Something that you wouldn't normally get in an average hotel.
Caro Hotel Reception Entrance
The Staff
As soon as we arrived we were greeted by Claudio. He was very friendly, attentive and made sure that we knew where everything was and even told us about our complimentary mini bar… What a bonus! We are quite familiar with the city, we didn't need as much help from the staff, regarding places to go. However, we did request a taxi for the evening to take us to Café del Duende which was booked for us on time.
Our Room
Our executive room was a very spacious 44m2 located on the Moorish tower that use to be a wine cellar in the 19th century. I like how you can also find out more about the history of the rooms and displays around the hotel by using QR codes provided.
The decor was very simple but stylish. Our room featured a glass box on the wall encasing old perfume vials that were found in that era. A very nice touch, almost a mini-museum in your bedroom. As well as those extras, there is a spacious bed, air-conditioning, plasma TV, safe and a lot of wardrobe space!
The room was spacious and I felt that maybe a little more decor or furniture could be added so that it doesn't feel too much of a wasted space. I normally like the old themed hotels and so this would be my first experience with a fusion of old and modern. I really wanted to like it, but somehow for me, something was lacking.
Maybe we have chosen the wrong room, as I would have preferred to have a balcony or a view. Room #4 only features two windows, which faces a wall and houses.
Apart from those niggling thoughts, we thought the room was very well done and the cleanliness is very impressive. I particularly love the open bathroom and a separate shower.
The fluffy bathrobes, slippers and a wide range of toiletries from Bvlgari were also nice. 🙂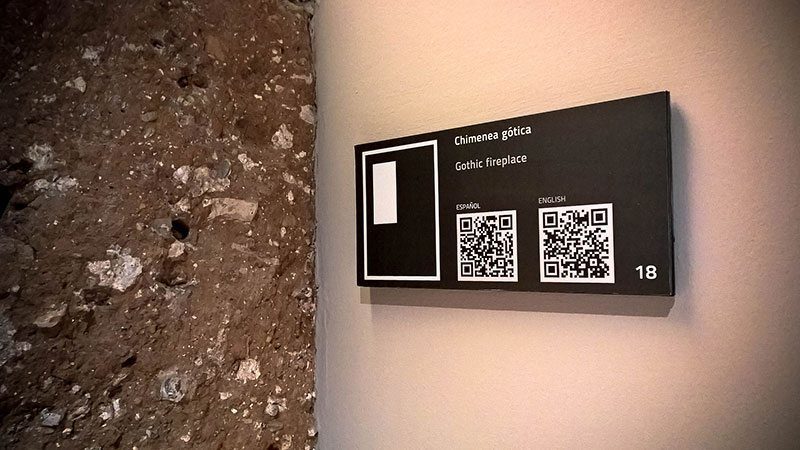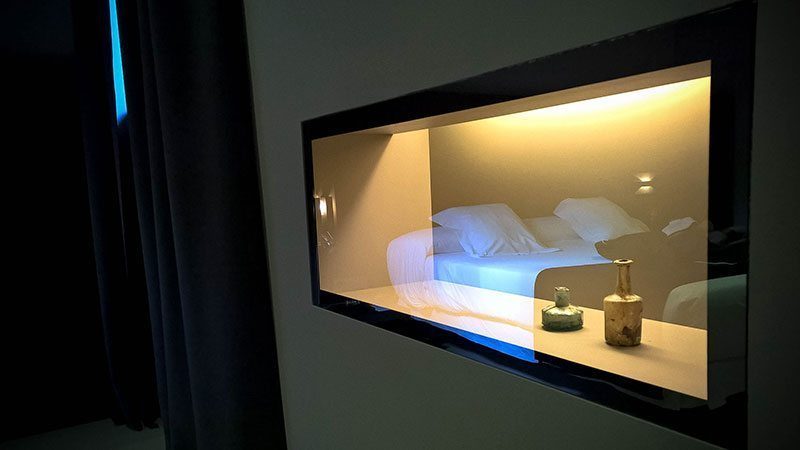 Once we were done checking out our room and deciding where to go that evening, we ventured upstairs which had some more of the original building.
There is also a quiet seating area available for guests which one would probably find themselves reflecting and appreciating being surrounded by all this history and antiquity in a very pleasant surroundings.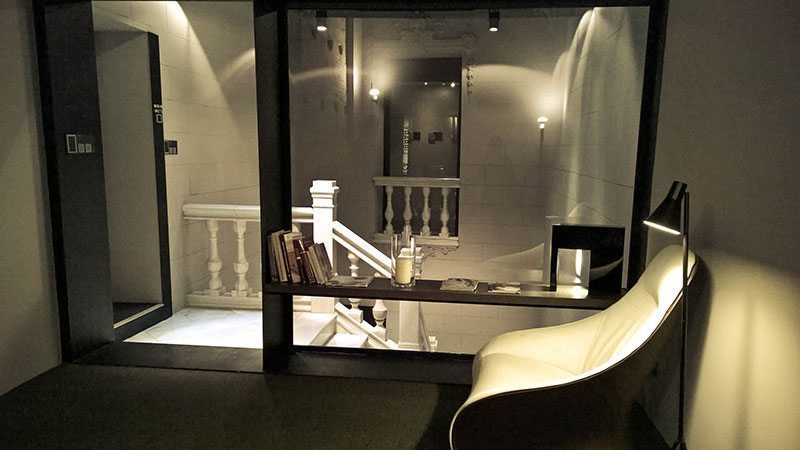 The Meta Bar
The theme continues in the bar with old historic stones tastefully displayed along the walls. Cosy, quiet, perfect for couples.
The bar is small, there is also a terrace area that's ideal during hot summers evenings. Unfortunately this time, it rained in Valencia (which is pretty rare at this time of year) we were unable to access the outdoor bar so opted to waste some time at the bar until it was time for us to head to watch a flamenco show in Valencia.
The Caro Hotel Basement Guide
The Caro Hotel – Mezzanine
The Caro Hotel – 2nd Floor
The Caro Hotel – 1st Floor
The Caro Hotel – 3rd Floor
There is certainly no doubt that The Caro Hotel is one of the most stylish boutique hotels in Valencia. Based on a number of glowing reviews we had very high expectations and we were not disappointed.
We would certainly add it to our 'places to visit again'. Maybe choosing a different room on the upper floor would be a much better option. Apart from that, our experience has been a very positive one, and I would recommend this amazing hotel if you are ever looking for something different to stay whilst in Valencia!
---
Book Now The Caro Hotel Valencia
*This is an independent review. Financial compensation was not received for this post. Opinions expressed here are my own.
Do you like my posts? Subscribe now!
Sign up here to get the latest posts, recipes, DIY and other cool things!