It may look complicated but cooking fideuá de marisco is super easy to make and it's also one of our favourite dishes. I make fideuá at least once a month and store it in the freezer so it's a great batch food to when I'm too busy to cook during the week.
At first glance, you might think that something like this will be expensive to put together. Well, that depends on how 'posh' you want your fideuá to be. Here in Valencia, it's common to buy seafood mix to be used on dishes like these.
A pack of 500g of mixed frozen seafood cost between €5 to €7. This normally includes prawns, calamari, monkfish, and mussels. However, if you have friends over, or you want to make something a little more special, you can buy the individual ingredients at the fishmongers.
A Brief History About The Dish
Fideuá, or fideuada, is similar to paella with multiple versions and it is a deeply rooted dish in Mediterranean cuisine. Although it's unclear about the history of fideuà, legend has it that it was an idea of a cook of a fishing boat from Gandia named Gabriel Rodríguez Pastor.
Some say that he used the noodles as a replacement for not having enough rice. Others say that the captain of the boat kept the rice for himself, leaving the crew without. Giving Gabriel the idea to use noodles instead.
What Is The Best Pan To Use
Using an authentic paella pan is the best way to cook fideuá de marisco. However, you do not have a paella pan you can also use a frying pan that measures 32cm and 5cm deep. Fideuá is traditionally cooked outdoors over a wood fire. There are also paella kits available nowadays that allows you to cook paella in your own home. A great alternative to a BBQ or if you want to impress your friends and family. 😉
As you can see paella making is popular in our household. It's a great way to spend a Sunday with friends or family cooking outdoors while spending time together.
How To Cook Fideuá del Marisco
Select The Seafood
Living in the Mediterranean we are lucky enough to have a wide variety of fish and shellfish. Many fishmongers here in Valencia offers seafood packs that include, mussels, monkfish squares, prawns, shrimps, and calamari ready to use for paellas and soups. When I make this dish I usually use the frozen pack of seafood sold in most supermarkets here. However, if I am cooking it for visitors or for a special occasion I tend to use fresh produce from our local fishmonger.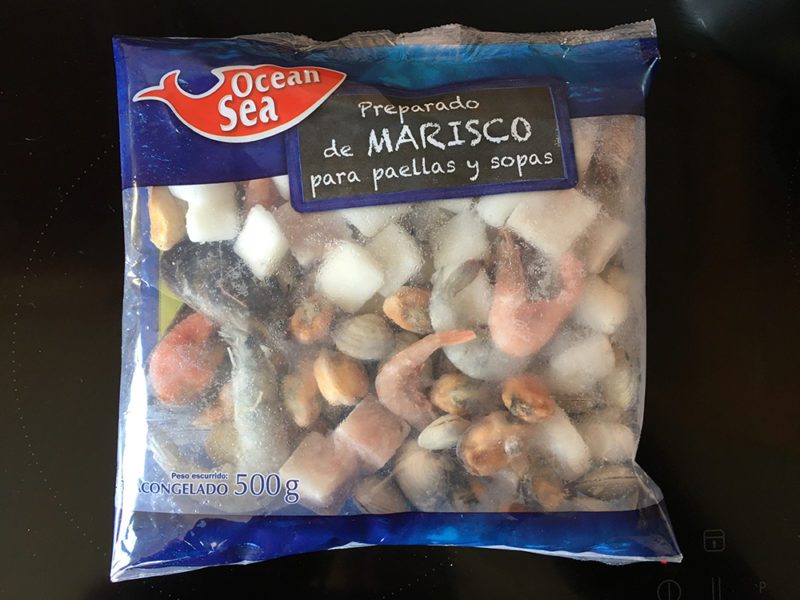 Pre-cook the seafood
Heat a large pan and add 2tbsp of olive oil. Fry the seafood for a minute so, when it's lightly cooked place in a plate and set aside. Add another tablespoon of oil in the pan and fry the peppers. Do this for a couple of minutes then take it out and set aside.
Making The Sofrito
Sofrito is a basis of many Spanish dishes including paellas and stews. A Spanish sofrito is mild and sweet. It primarily consists of garlic, bell peppers, onions, and olive oil. This should be fried slowly to release the flavour and juices.
In your pan, add 4 tbsp of olive oil, once it's hot enough fry the onions around 2-3 minutes or until it's translucent. Add the minced garlic and toss around for 2 minutes. Be careful not to burn the garlic. Once the garlic is slightly cooked add the chopped tomatoes into the mixture. Cook for around 3-4 minutes until the tomatoes break down a little bit. Add the sweet paprika into the mix and cook until the tomatoes have broken down into a paste.
Cooking The Fideuà Pasta
Fideuà pasta are short hollow and curved noodles mainly used for this type of dish. It's fast cooking and serves between 4-6 portions in a pack of 500g. If you cannot get hold of fideuá pasta, it's also fine to use Fideos (No.2), these are short and thin noodles and can also be used to make fideuá de marisco.
Add the fideuá pasta into the pan, mix well until all the pasta is evenly covered with the sofrito. Take the seafood and pepper and stir it in the pan. In this recipe, the culinary technique is very important, especially when frying the noodles. Allow it to slightly brown before adding the fish stock.
Boil a litre of water and add this to two cubes of fish stock. Pour in the fish stock into the pan, add the saffron or colourant and stir to mix all the ingredients and flavours together.
Colourant or Saffron (Azafran)
Saffron or colourant is usually added into paella dishes to achieve a golden colour. While saffron can be quite expensive it's OK to use colourant in these type of dishes. Here in Spain, we can buy colourant or colorante in any supermarket. However, if you cannot get hold of paella colourant locally, there are loads available online.
Cook the noodles on high heat and allow to boil for about 5-7 minutes or until the stock reduces. Stir it occasionally to avoid the pasta from sticking to the bottom of the pan. Once the stock is reduced slightly lower the heat and leave the fidueá to simmer. Cover the pan with tin foil and seal lightly along the edges.
Leave it to cook for 15 minutes. Usually, after 10 minutes, I lift the foil up to check on the pasta, just to check if it's cooked. If it's still hard then I leave it for a few more minutes until I am happy with the texture. My son prefers his fidueá a little crispy at the bottom or socarrat as we call it here in Valencia, so I tend to leave it for longer.
Socorrat… A beautiful word for something seemingly banal — the rice that gets crunchy and forms a crust at the bottom of the pan.
How To Serve Fideuá
The fideuá like any paella or rice dish must be served fresh and hot. However, it's important to allow the fidueá to sit for around 5-10 minutes before serving. When we have friends over, it's customary to sit around a table and place the paella pan in the middle. Many prefer to eat the fideuá from the pan, and some like to have it on a plate.
Fideuá is traditionally served with a slice of lemon or allioli. Even though you might think that noodles and allioli might be a weird combination, but it works very well. The hint of garlic and mayonnaise tastes delicious with a traditional Valencian fideuá de marisco. Why not try it?!
Authentic Fideuá de Marisco
Additional Time:
5 minutes
Ingredients
400g fideuá noodles
500g seafood (mussels, prawns, cubes of swordfish, calamari, monkfish)
1 large onion
2 cloves of garlic finely chopped
1 red pepper chopped
2 tomatoes chopped
1tsp sweet paprika (pimentón dulce)
1 1/2 tsp colourant (colorante)
3tbsp olive oil
1 litre of fish stock
salt for seasoning
Instructions
Fry the seafood in a large pan and set aside.
In the same frying pan, fry the chopped peppers and then set aside.
Make the sofrito by frying the onions and garlic in the same pan. When the onion is soft and translucent add the grated tomatoes into the mixture, leave it to soften for a few minutes.
When the onion and tomato mixture is soft, add the paprika and mix well.
Add the noodles, and mix again to get an even coverage.
Add the seafood and the fried pepper and stir.
Add the fish stock and the saffron threads or colourant. Stir the mixture.
Allow the noodles to cook for around 5-8 minutes, stirring occasionally to avoid sticking and to ensure that the noodles cook evenly.
Once the stock in the pan is starting to reduce (but not dry). Cover the pan with foil and turn the heat down. Leave it for around 10 mins.
Turn off the heat and let it rest with the lid on for about 5-10 minutes. Serve with a slice of lemon. Enjoy!
Notes
What is sofrito?
In Spain, a sofrito is a central ingredient in any seafood stew. A Spanish sofrito is mild and sweet. It primarily consists of garlic, bell peppers, onions, and olive oil.
Recommended Products
As an Amazon Associate and member of other affiliate programs, I earn from qualifying purchases.
Do you like my posts? Subscribe now!
Sign up here to get the latest posts, recipes, DIY and other cool things!