Delicious and tender Asian style crispy fried chicken is a quick and tasty recipe that keeps my boys quiet during dinnertime. With minimal ingredients, it's a simple and comforting meal with an Asian twist.
---
When it comes to chicken my family would always go for this juicy and tasty Asian style crispy fried chicken. Making your own fried chicken might look intimidating, but it's actually pretty straight forward and the best thing of all it's free from MSG!
The problem with many store-bought chicken coatings is that they contain a lot of additives. The same goes for takeaway fried chicken. Though I enjoy them from time to time, I much prefer my homemade version.
This recipe is my to go to when having people over or if I have to bring something for a get-together. It's the most requested 'finger food' that my friend's kids always ask for. So if you're looking to make your own fried chicken with an Asian twist then, maybe now is the time to give it a go!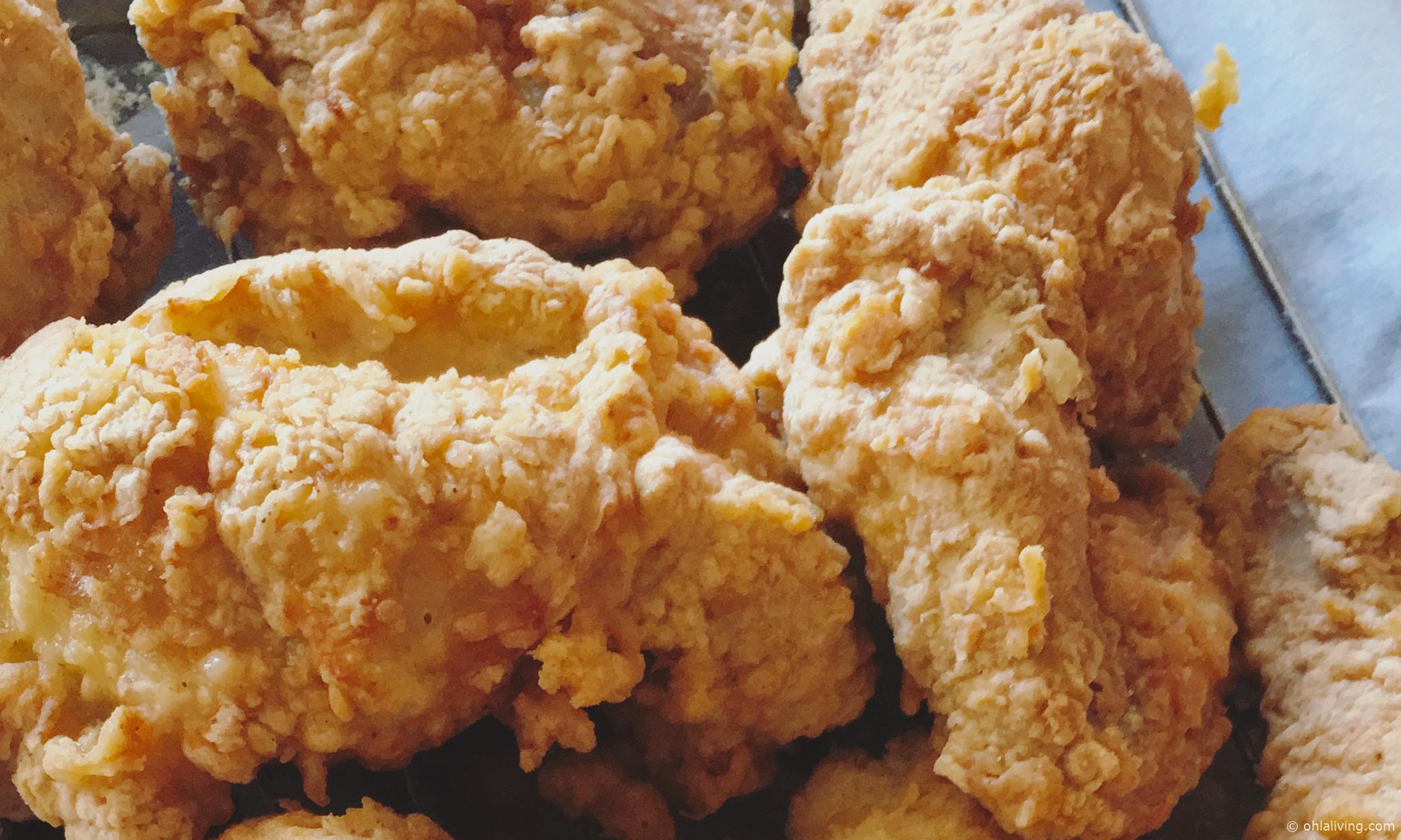 Do I have to use a whole chicken?
No, you don't have to use a whole chicken. I know some people are not too crazy about cutting their own chicken, but I find that using a whole chicken is best for value. You can use chicken wings, thighs or drumsticks, which can be bought from the supermarket already cut. When I'm having people around, I tend to use chicken wings as you get more and it's quicker to cook.
Why Do You Use Cornflour?
Cornflour is often used in Asian fried chicken recipes. Combining the flour with cornflour produces a crispier result.
Pre-frying the chicken
Pre-frying the chicken ensures a super crispy outer skin and a soft and juicy inside. It's also healthier as your chicken will only be cooked in oil for a short time.
Once you have coated your chicken in the flour mixture, fry the chicken until it's golden brown. Once it looks sealed and brown lay it down on the wire rack. Do this until all the chicken pieces have been fried.
Do I Have To Use Wire Rack?
I prefer to use a rack to avoid the bottom of the chicken going soggy. Using a wire rack ensures that all the excess oil from the chicken is drained, leaving you with a healthier fried chicken. If you do not have a wire rack, you can place the chicken directly on a tray lined with greaseproof paper, but allow the chicken to sit on a few layers of paper towels after you take it out of the oven.
How Can I Get My Chicken Coating To Stay On?
When I first made fried chicken I found that I have a problem of making sure that my coating stays on. There's nothing worse than a coating that falls off! There are usually a few reasons why this happens.
If you are marinating your chicken, be sure to shake off any excess liquid. You can even use a paper towel to pat the chicken dry.
If using egg ensure that the chicken is dry before dipping in the beaten egg. Dip the chicken into the flour coating and shake the excess.
Make sure that your oil is hot enough and avoid overcrowding your pan.
Do not touch the chicken unless you are turning it. The more you turn or poke around the more likely the coating will fall off.
What Kind Of Oil Can I Use?
There are plenty of options when it comes to choosing oil for deep frying. Common oils include sunflower oil, peanut oil, canola oil just to mention a few. Vegetable oil is what I normally use for deep frying, it can withstand approximately 450F and you can also re-use it. Just simply allow the oil to cook down after use, and strain it The best temperature for deep frying chicken is at 350 degrees Fahrenheit.
How Long Can I Keep The Fried Chicken For?
Asian fried chicken is best when it's fresh and crispy. But if you are lucky enough to have some leftovers then put it in an airtight container and place it in the fridge for around 2-3 days. Of course, the skin will not be crispy when re-heated, for best results, reheat in a 250c oven for 15-20 minutes.
How To Make An Asian Style Crispy Fried Chicken
Chicken Marinade
To give the chicken a subtle Asian flavour, it's important that the chicken is marinated in lemon juice, salt, pepper and five-spice powder. You can either do this in a bowl or in a ziplock bag and leave it in the fridge for 30 minutes to an hour.
Prepare The Coating
Make the coating by combining, flour, cornflour, salt, garlic salt and five-spice seasoning in a large ziplock bag. Shake the bag to fully mix the seasoning. Set aside until you are ready to use it.
Coat The Chicken
Beat 1 large egg in a medium-size bowl.
Coat the chicken in the flour mixture and then cover with the egg.
Return the chicken into the flour mixture again and set aside.
Do this with all the chicken until you have all the chicken coated and ready for frying.
Quick Fry The Chicken
Fry the chicken pieces in hot oil for 3-5 minutes. This is to seal and crisp the coating. Take the chicken off the pan and place it on the wire rack. Do this until you have fried all the chicken.
Oven Bake The Chicken
Place in the oven at 180°c for 40-45 minutes. If you are using chicken wings, or chicken breast, the cooking time around 30-35 minutes.
Serve and Enjoy!
Take the chicken out of the oven and leave it to sit on the rack for around 5-10 minutes. This ensures that all the grease drips out of the chicken and also allows the juices to redistribute throughout the meat, giving you a soft and juicy chicken!
Asian Style Crispy Fried Chicken
Total Time:
1 hour
15 minutes
Are you looking for a super crunchy and tasty fried chicken? Then look no further! A KFC style chicken with an Asian twist.
Ingredients
Chicken Marinade
1 medium whole chicken cut into pieces
1tbsp salt
1/2 tsp five spice seasoning
1tsp ground black pepper
juice of 2 small lemons
Chicken Coating
125g plain flour
65g cornflour
1/2 tsp five spice powder
1tbsp garlic salt
1tsp fine salt adjust accordingly
1 large egg beaten
Instructions
Cut the chicken into small pieces so you have 2 thighs, 2 legs, 2 breasts and 2 chicken wings. You can also cut the wings and breast in half so you have more pieces. Set the meat aside.
Make the chicken marinade by squeezing 2 small lemons in a bowl, add salt, five-spice, pepper and salt. Mix with a fork and pour over the chicken. Place in the fridge for about 30 minutes to 1 hour.
To make the coating, place flour, cornflour, five-spice, garlic salt and fine salt into a zip-lock bag.

Coat & fry the chicken
Line a baking tray with a wire rack with greaseproof paper.
Pre-heat oven at 180°c.
Heat up oil in a deep pan or wok.
Beat the eggs in a medium-sized bowl and set aside.
Coat the chicken in the egg mixture one by one and then add into the coating mixture. Shake the bag to ensure even coating.
Take the chicken out and set aside on a plate or chopping board.
Do this to all the chicken pieces.
Once the oil is hot enough, place the chicken to fry. Do not overcrowd the pan as this will result in your oil lowering in temperature.
Allow the chicken to fry for a few minutes (1-3 minutes) or until slightly brown. You want the chicken to just crisp outside.
Take the chicken out of the frying pan and place on to your pre-prepared wire rack.
Do this until all the chicken has been slightly fried.
Place in the oven at 180°c for about 35-40 minutes.
Do not forget to allow the chicken to sit for 5-10 minutes before serving. Enjoy your crispy fried chicken!
Recommended Products
As an Amazon Associate and member of other affiliate programs, I earn from qualifying purchases.
Do you like my posts? Subscribe now!
Sign up here to get the latest posts, recipes, DIY and other cool things!