A traditional Filipino lumpia recipe that has the crispiest wrapper. The delicious Filipino egg rolls recipe can be served as a snack or finger food ideal for parties.
---
Ahh, the good old lumpia! A firm favourite in our household, the kids love them, my friends love them, they are simply the best lumpia you'll ever taste! Of course, they're also known as spring rolls or egg rolls too, but whatever you want to call them, this delicious Filipino lumpia recipe is definitely a keeper.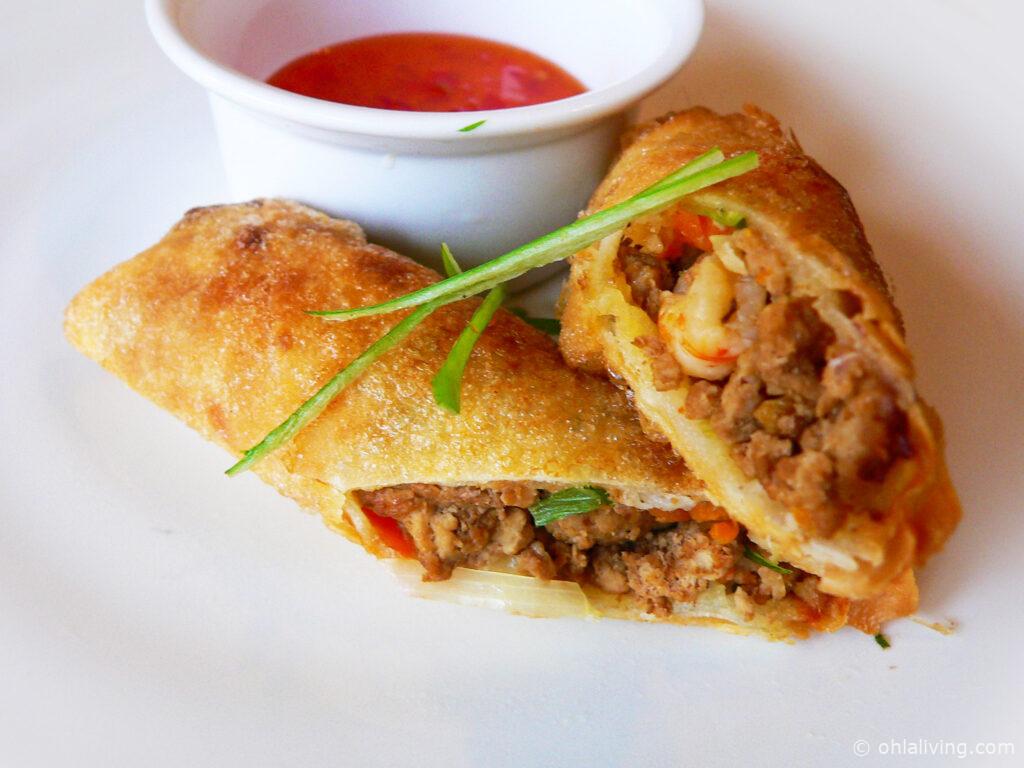 When I serve these, it's almost guaranteed that someone will ask me for the recipe. If they're not familiar with Asian food, then only mentioning spring roll wrapper, Chinese cabbage can put them off. But I always tell them, don't worry if the ingredients sound a little daunting. You can easily get hold of them nowadays. If I can get my Asian ingredients here in Valencia, I'm sure you can get them wherever you are!
While there are many options for the fillings – I prefer to make mine with pork and prawns with additional vegetables including Chinese cabbage, carrots, green onions for added crunch and colour. If you're a vegetarian, then you can substitute the meat with additional vegetables too, such as bamboo shoots, shitake mushrooms, green beans, and so on. For added flavour, add some Mushroom Vegetarian Oyster Sauce too.
To cook or not to cook the lumpia filling
I have done both, and I much prefer not cooking my filling as it's easier and faster. Many people cook their filling first, and to be honest, I don't really notice the difference in taste. I think it's more of a preference. This recipe is quick and easy, you don't need to cool the filling before using it. There are no worries about having too much juice that can potentially break a hole in the wrapper. So for me, it's convenient, I just mix everything in a bowl, allow to marinate for 30 minutes, wrap and then cook!
Filipino Lumpia Ingredients
Minced pork – You can also use chicken or turkey mince if you want a leaner spring roll. I prefer using pork as it's a little fatty and adds more to the flavour.
Prawns – It's completely optional. Adding shrimps or chopped prawns adds flavour an authentic taste.
Carrot – I used one medium carrot shredded.
Onion – I used one yellow onion, but you can also use red for added colour.
Spring onions – Only the green leaves, chopped into thin strips.
Chinese cabbage – These are softer than normal white cabbage and adds crunchiness to your spring roll. You can use normal white cabbage but slice it thinly so it cooks at the same time as the other ingredients.
Celery leaves – I used celery leaves, but you can also use chopped celery.
Garlic – For this recipe, I used 5 cloves of medium size garlic. As it's a lot, I prefer to mince the garlic so I don't get large pieces in my spring rolls.
Maggi Liquid Seasoning – This is optional, you can also use normal soy sauce if you don't have liquid seasoning.
Chinese cooking wine – Again this is optional. It doesn't have to be Chinese cooking wine, a normal dry white wine is fine.
TYJ Spring roll pastry – I used a pack of 40 and used 35 for this recipe. You can get these at any Asian supermarket, they come frozen in a pack. Just ensure to take it out of the freezer 15 minutes before use. Open the pack and cover the pastry with a damp tea towel.
Filipino Lumpia Recipe Instructions
Slice all of the vegetables to roughly the same size. You want everything the same size so each ingredient blends together. Mix the pork and the prawns. Add the vegetables and seasonings. Set aside for at least 30 minutes.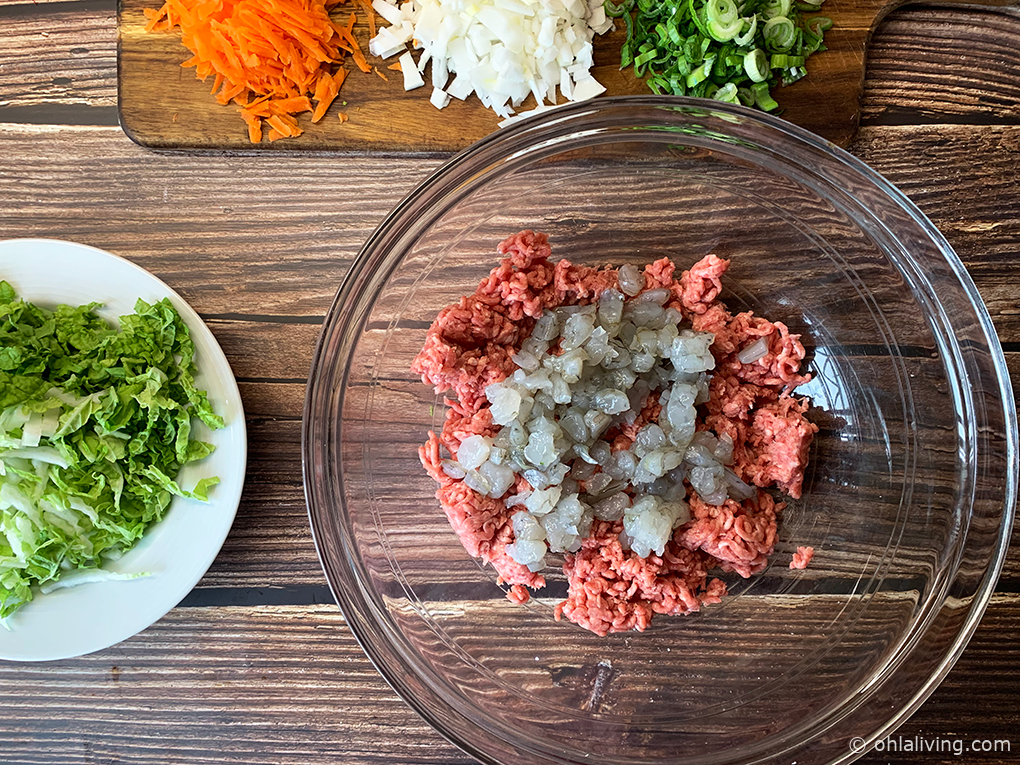 How To Roll A Lumpia Spring Roll
The key to wrapping a good spring roll is to make sure that they're tight enough so that the filling does not escape, but not overstuffed so that it'll rip or tear. Always use fresh spring roll wrappers, as using old re-frozen wrappers tend to lose their elasticity.
Place the spring roll wrapper on a flat surface so that a corner is facing toward you. Get a heaped tablespoon of the lumpia filling, and spoon it about halfway.
Fold over the corner that's closest to you and gently wrap it over the filling.
Fold both corners on the side, so you get an envelope shape.
Starting from the bottom roll your lumpia into a cigar shape. Dip your finger on a little bit of water and brush the edges of the wrapper that's farthest from you to seal it.
Place each lumpia on a tray. This lumpia recipe makes about 30-35 total.
Can you prepare lumpia ahead of time?
Of course, you can freeze lumpias in a ziplock bag or a tray ready for when you need to use them! Do not thaw the spring rolls, they are ready to fry in hot oil straight from the freezer.
How To Fry Lumpia Rolls
Fill a wok with about 500ml of oil, or until it's about 3″ deep. Heat the oil slowly over medium heat until it reaches 325°c. You can also test if the oil is ready to use by placing a wooden stick in the middle of the pan. If bubbles form around the stick, then the oil is hot enough.
Gently drop the spring rolls one at a time, frying in small batches. Do not overcrowd the pan otherwise the oil temperature will reduce, and the lumpias will 'soak' in the oil. This will give you a soggy or greasy lumpia.
Cook the lumpias and roll them so they brown evenly. Once they look golden brown, transfer to a plate lined with paper towels. If you want to retain the crispiness, then stand them up on a deeper pan.
Using an air fryer to fry spring rolls
If you don't fancy using oil to fry your rolls, you can use an air fryer as an alternative. However, I would suggest cooking your filling first. Follow your air fryers instructions on how to use it on spring rolls.
How To Keep The Spring Rolls Crispy
You can prolong the crispiness of your spring rolls by standing them up on a deep bowl lined with paper towels after you take them out of the fryer. You can also place them on a wire rack inside a warm over to keep them crispy until you have finished cooking the batch.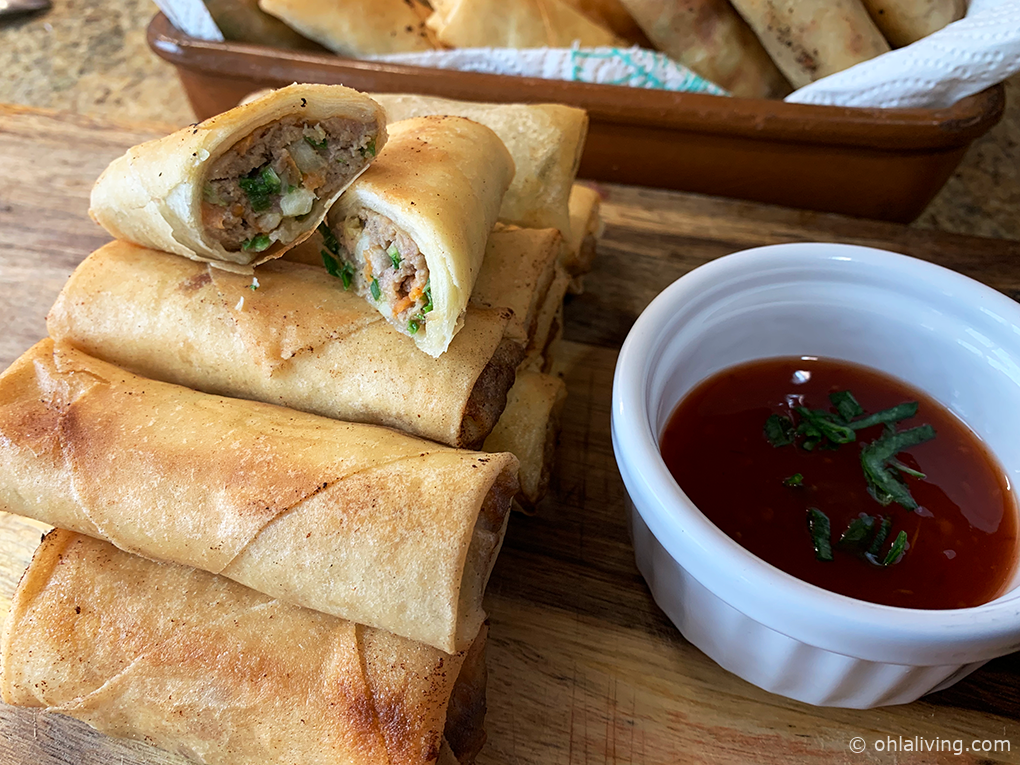 Easy To Make Filipino Lumpia Recipe
An easy and delicious Filipino lumpia recipe that has the crispiest wrapper. Serve them as a snack or finger food ideal for parties.
Ingredients
500g mince pork or chicken
250g prawns (diced)
1 medium carrot thinly sliced
1 medium white onion
50g green onions (spring onions)
160g Chinese cabbage or normal white cabbage
5 garlic cloves minced
2tsp soy sauce (or Magic Sarap)
1/2 tsp sugar
1 tsp salt
1 tsp black pepper
2 tbsp `Chinese white wine or dry white wine
40 sheets TYJ Spring roll pastry (215mm x 215mm)
Instructions
Combine the pork, prawns, garlic, cabbage, green onions, celery leaves, liquid seasoning, wine, salt, sugar, and black pepper in a large bowl.
Using your hands, or a rubber spatula, mix the filling well so that the seasonings are evenly distributed.
Place one of the rectangular wrappers vertically on your work surface with the short edge facing you.
Place a heaped tablespoon of the filling on the wrapper about 3" from the edge closest to you.
Grasp the bottom edge of the wrapper and roll it up and over the filling, continuing to roll until 2" of wrapper remain.
Dip two fingers into a bowl of water, then moisten the last 2 inches of the wrapper with your fingers.
Finish rolling the lumpia, then rest it on its seam. Continue rolling with the rest of the filling and lumpia wrappers.
At this point, you can freeze your rolled lumpia if you wish by placing them in freezer bags and then into your freezer.
To cook the lumpia, fill a large frying pan with about 3" of vegetable oil.
Heat the oil over medium-high heat. Gently place the lumpia into the hot oil and fry until golden brown on all sides, 3 to 5 minutes total (if frying frozen lumpia, it will take 1 to 2 minutes longer).
Place the fried lumpia on paper towels and serve immediately with sweet chilli sauce.
Recommended Products
As an Amazon Associate and member of other affiliate programs, I earn from qualifying purchases.
Do you like my posts? Subscribe now!
Sign up here to get the latest posts, recipes, DIY and other cool things!