My husband and I are close. I mean, extremely close! Not only that we are (obviously) married to each other. We are also co-workers, full-time parents, and we run a business from home. Which 99% the of time means that were together 24 hours, 7 days a week!
Ok. This intimate setting might not be for everyone. But we are content and comfortable with each other's company. I have my 'office' in the living room, while he enjoys the privacy of his own home office (aka the spare room). Somehow this co-working arrangement has worked in the last 10 years and guess what? We're still married!
Just because we spend most of our time together, does not mean that we get quality time as husband and wife. Having been married for 12 years and together for 15. Once in a while, we love to treat ourselves by taking a staycation or a mini holiday. An opportunity for us to ditch parenting duties, relax and step away from the glare of our computers.
This year we reached another milestone, and of course, having an excuse to take a little break IS ALWAYS a good idea! With that in mind, we headed off for three blissful days to celebrate our 12th anniversary on the white island of Ibiza!
On this post, I would like to tell you more about the first day of our holiday. I gathered that it will be easier to show you in sections instead of writing a long winded entry. Plus you'll get to enjoy more in-depth about the places we visited and things we experienced.
Santa Eulalia D'es Riu
It's no secret that Ibiza is famous for its party atmosphere. But, that's not the only reason why Ibiza is so great. Known for its golden sandy beaches, crystal blue waters, and bohemian ambience. This 'White Island' is also a place for relaxation, tranquillity, and luxury.
Removed from the hustle and bustle of the party goers, we headed to the east side of the island. Santa Eulària d'es Riu makes up the third of the largest population in Ibiza. Unlike the popular west side of San Antonio, you will find the atmosphere in this part of the island is a lot more laid back. Making it an ideal haven for families and couples like us who are looking for a more relaxed holiday.
Located only 79 km off the coast of Valencia, Ibiza can be reached either by plane or ferry. Flights run throughout the year, and during the off-peak season, you can find flights for as low as 15 euros.
We also hired a car for just over €60. It's a great way to unearth and investigate some hidden gems that Ibiza has to offer. Getting lost, exploring and getting to know 'The Real Ibiza' was part of our plan. I couldn't wait!
Aguas de Ibiza Lifestyle and Spa Hotel
Aguas de Ibiza Lifestyle and Spa Hotel is situated at the northern port of Santa Eulalia. A few meters away from the promenade that leads to the main town. Aguas certainly exudes luxury and relaxation. A stark contrast to the party scene you might expect if that's your initial perception Ibiza.
We booked the Junior Suite with a large terrace and sea view overlooking the rolling hills of Sta. Eulalia. With 45m2 of space, it is one of the largest bedrooms we have stayed in so far.
Our bedroom featured a large balcony with full-length windows. The contemporary furniture added a modern touch. While the natural stones and iridescent tiles kept the room real to the natural feel of Ibiza. I especially loved the mood lighting and the outdoor bath, (which I didn't get to use!).
Aguas de Ibiza have added a touch of feng shui philosophy throughout the hotel. The decors are arranged to bring in as much as light and space as possible. With velvet seats, large chill-out chairs and staff all wearing the typical white Ibicenco attire, you'll be forgiven for thinking that you must have died and gone to heaven.
The Revival Spa
Like many places in Ibiza, everything is all about luxing and chilling out. And this is one of those heavenly places where you can do just that. With more than 1,500m2 of space dedicated to wellness and peace it was something that I can certainly get used to!
The spa had everything. From day beds, heated pool, massage jets, steam rooms, sauna, and my personal favourite the Roman and Turkish baths. There is also a complimentary juice bar where you can help yourself to a selection of fruits and detoxifying drinks.
See those beds there? That's where I spent most of my time after a day exploring the island. I don't know what it is, but everything here seemed slow-paced. It almost felt like a crime to rush around.
Having lived in Spain for five years now, I thought I was an expert in knowing what a slow pace of life looks like. Clearly not. Ibiza is another level. The slow motion level.
Vi Cool Rooftop Bar
Arriving at the bar almost felt like that I've taken an elevator and was magically transported to the doors of heaven.  The retro and Ibicenco décor of white and blue under the shade of the stylish pergola made by knotted rope makes this bar a pleasure to be in. Three days ain't going to be enough, and I knew it!
Aguas is known to have one of the best high-end rooftop bars in Ibiza. The bar is cosy but spacious enough to be divided into two sections.
The pool area is where you can bag the best seat to see the amazing views of Santa Eulalia. It's the perfect perch to sunbathe, swim and chill. The second part is the more formal dining area, where you can enjoy some tapas and cocktails while listening to the DJ spin some chill-out tunes.
As a person who gets bored being sat on a sun-bed for more than 10 minutes, I must admit that I could have happily spent the rest of my holiday here. The décor, along with the 360-degree backdrop of the Mediterranean sea and blue skies is a definite confirmation that I have now fully entered the chill-out zone. I really didn't want to go home!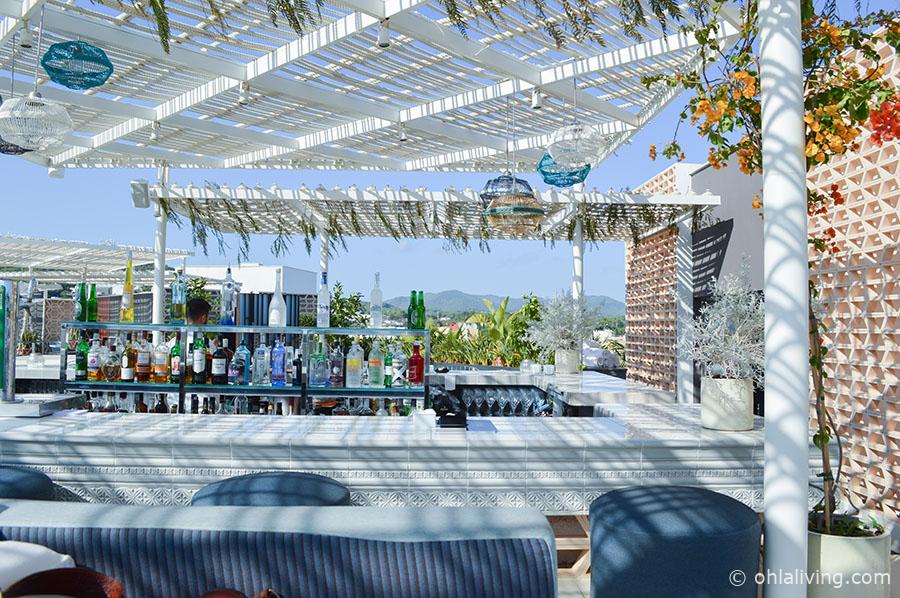 It is easy to fall in love with Ibiza. The energy and the vibe that you feel once you land on this island is pretty awesome. As the sun sets on our first day we know that we have come to the right place to spend our anniversary. Forget the hedonistic hard sell, and drink as much as you can for €10. The prospect of finding the 'real Ibiza' is so much more exciting.
Do you like my posts? Subscribe now!
Sign up here to get the latest posts, recipes, DIY and other cool things!